So if you've missed the past week's posts, here is a nice list of links to each of the days.
Day 1
: Thursday 7/7
Day 2
: Friday 7/8
Day 3
: Saturday 7/9
Day 4
: Sunday 7/10
Day 5
: Monday 7/11
Day 6
: Tuesday 7/12
Day 7
: Wednesday 7/13
Awards Ceremony
We just got back from the awards ceremony. What a way to end a film festival. LIIFE really pulled out all the stops here bringing up Martha Wash to do some musical performances and then having Brian O'Halleron (Clerks) as the main host (he was tremendous!). There was a Artistic Achievement award given to Long Island's own Ed Burns (Saving Private Ryan, 27 Dresses, Director of the Brothers McMullan). Federico Castelluccio was not only a guest presenter but won big at the show including "Best Short" and "Best Director for a Short film." We don't remember all the awards (it was a 4 hour ceremony and the tech awards were already given out before hand!). But other films that won big awards include "On Air" (a German student film that we did not see, "Exposed" (didn't see it, a documentary that won best Jury Prize), "Tracks" (another film we didn't see, won Jury Prize short). Actor and Actress and Supporting Actress all went to the cast of "True to the Heart" (which won the best first feature film award) while "Strings" won best director and supporting actor. The Best Feature Film award (AKA Best in Show) went to "As if I'm not there" which was nominated for best director, best story, and best humanitarian award.
So all in all the presentation was remarkable. All the nominations were displayed with clips from the film and every winner was given a golden Oscar-looking statue. However, showing the same clip again and again for films that were nominated more than once was a bit trying on the nerves. More variety in the clips would have been better. Watching the same clip for a film "Clarity" three times ( a film that won it's share of awards and was probably excellent, again didn't see it) did more to deter interest in the film than actually enhance it.
We will both miss this festival, which was so professionally executed. The treatment of everyone who was involved and participated was first-class. We look forward not only to attending again next year, but hopefully also screening our film there as well. So a big shout out to the LIIFE organizers!
So in the spirit of the awards dinner, we are going to present a brief list of some of our own personal "awards" if you will.
Just a disclaimer: We went to the following sessions:
Thursday: 5 pm and 7:45
Friday 7 pm
Saturday 1:30 and 4:30
Sunday 7 pm
Monday 5 pm
Tuesday 5 pm
Wednesday 2:30
So not every film from the expo was considered because we didn't see all of the films. The intentions of this is to honor the films that we DID see and that most impressed us in the categories that we felt suited to judge or qualify. So because we didn't remember many scores or sound effects/editing, we did not do any "awards" for that. Also, because we hate the whole one must win out standard, we picked a few for each category. They are listed in alphabetical order, not in order of preference.
FINALLY, just remember, these are our opinions.
Best Cinematography
"As if I'm not there"- Tim Fleming
"Lilly of the Feast"- Ken Kelsh
"The Price"- Stefan Silvers
Best Editing
"As if I'm not there"-
"The Shoes Maketh the Man"- Tarek Sursock
"Strings"- Ben Foster, Mark Dennis
Best Actor in a Leading Role
"Lilly of the Feast"- Federico Casteluccio
"The Shoes Maketh the Man"- Pasquale Cassalia
"True to the Heart"- Andrew Ruth
Best Actress in a Leading Role
"As if I'm not there"- Natasa Petrovic
"Perhaps Tomorrow"- Terri Garber
"True to the Heart" -Meghan Grace O'Leary
Best Actor in a Supporting Role
"Lilly of the Feast" -Paul Sorvino
"Perhaps Tomorrow" -Adeel Ahmed
Best Actress in a Supporting Role
"Cleaning House" -Karin Tratchenberg
"Strings"- Olivia Draguicevich
Top Films
So we picked out five favorite films and then 4 honorable mentions that we did not want to leave unrecognized for their quality. We will provide blurbs for our 5 favorites and why we loved them so much. Remember alphabetical order and no rankings here.
Honorable Mentions
"Blackberry Stains"
by
"Cleaning House"
by Catherine Giarrusso
"Lilly of the Feast"
by Federico Casteluccio
"Strings
" by Ben Foster and Mark Dennis
Top 5 Favorites
"As if I'm not there" by Juanita Wilson
A real knock-out if there ever was one. Beautifully photographed, tremendously gripping, and filled with some of the most powerful acting I've seen recently, this film broke both of our hearts and was our immediate consensus pick as one of our favorites. It also screened on opening night and was a tough act to follow for sure. The film is filled with disturbing images and scenes, but director Juanita Wilson makes tasteful decisions that keep everything from being over sentimentalized or even becoming overly grotesque. Samira of Sarajevo goes to a village to become a teacher. Then those villagers are captured and sent to a camp. Samira is thrust into a situation where she must either take the abuse or sell herself to the best bidder in hopes of living a more "dignified" life in the prison camp. The film is set during the Bosnia conflict in the 90's and highlights a devastating time in recent history that does not seem to get the attention it deserves. The village is left unnamed and the side that the soldiers are fighting for is also left unknown. The film does not care about taking political sides; it only cares about presenting a reality that both sides were guilty of. And it does so with searing power that makes the film compelling and unforgettable.
"King of the Hamptons" by Dennis Lynch
Presented during one of the "warm-up" blocks, this film is presented as a documentary, but instead of lecturing like most documentaries eventually end up doing, this film simply takes its audience on a exhilirating journey. Its what reality TV aspires to, but always fails to achieve. Watching an average man do what so many people in his position want to do but have no courage to do is inspiring. And watching him succeed is beyond that. It is a testament that the American dream is still very much a possibility and even a reality for those who have enough faith in themselves. Neither of us are big fans of documentaries (again the lecturing bit), but this film definitely made us laugh, smile, and even almost get a bit teary.
"Perhaps Tomorrow" by Sandy Garfunkel
Both dramas and comedies pose their individual challenges, but I often feel that comedies tend to do better in the short film form. Character dramas tend to be slower paced than comedies and as a result, demand the length and span of a feature for their characters to blossom. Often watching short dramas tends to be frustrating because one gets the sense that the film is incomplete, that the story is not truly finished, nor the character full formed. "Perhaps Tomorrow" feels like a complete story with a fully fleshed character and it is a truly moving human piece that in its most tragic revelation also provides beautifully captivating human interaction that fortifies one's hopes for the characters.
"The Shoe Maketh the Man" by Tarek Sursock
The film got no mention during the awards ceremony. It really is a shame because it was what I would classify as a perfect short comedy. A compelling conflict, a hilariously interesting character, and a comically satisfying ending make for one of the films that really surprised us. Alessandro is an accountant in Hollywood who is about to get his big client. As the film starts he is prepping for the big meeting and converses with his lover about their future dreams, gets a scolding by his hilarious Italian mama for his stupid girlfriend and for not focusing, etc. Everything is looking up, until Alessandro scrapes his perfect leather shoe and then pandemonium ensues. A comment on American superficiality that is resolved in the most interesting of all conclusions. Well-paced, brilliantly acted, beautifully shot, and most important, hilarious, this is one of the overlooked films of the festival.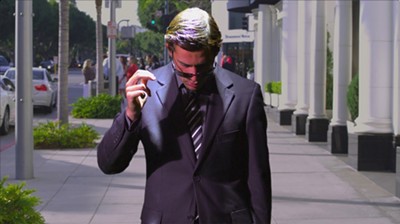 "True to the Heart" by Mitchell Kase
This film got its due on awards night with victories in all the acting departments and best first feature. It also got 3 or 4 additional nominations, so it was clear that NO ONE overlooked this film. And why would they? More in the vein of a 1950s screwball comedy and more imaginative than anything Hollywood has recently put out in the romantic comedy department, "True to the Heart" is a beautiful story about two former adversaries learning to love each other. The acting is top notch and fully merited the acting victories they accumulated together and Mitchell Kase and Byron Stankus write a story that may have a pretty straightforward trajectory, but is filled with enough twists to remain compelling for it's entire running time. I mentioned this in the earlier "review", but the customary "I love you" at the end of romantic comedies can be cringe-worthy and often hard to watch, because most of the time, it is difficult to believe. But as Drew and Kaitlyn came together in the bar where they first met, I was actually excited to hear those fateful words and see the expected conclusion. Romantic comedies take a lot of shots because they are so formulaic and so predictable. However, Mitchell and Byron show that it is possible to adhere to the formulas and predictability and still remain freshing, appealing, and most importantly, entertaining. A great film that got a great premiere and will hopefully see even better days at other film festivals.
And that sums everything up. We hope you enjoyed reading us for the last week. Congrats to all those who made it into the festival and participated!
David Salazar
Francisco Salazar